Sensei Richard Callaghan 6th Dan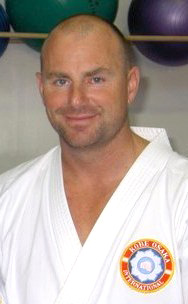 Sensei Richard Callaghan is the founder and Chief Instructor of our club.
Karate
Rich is a 6th dan black belt and full-time professional karate practitioner. With two world cup kumite championships to his name and over thirty years of teaching experience,  Rich takes pride in passing on world-class knowledge and skills to our students.
Rich has travelled extensively to compete, train and teach with international masters and is known for his welcoming and positive teaching style. Throughout his teaching career, he has had the pleasure of seeing many students excel with determination and humility in many aspects of their lives, by exercising the skills of self-discipline they have learnt through karate. He is proud to lead a thriving local karate community and takes great satisfaction in guiding students to fulfil their highest potential.
Fitness
Due to his skill and expertise in training and motivating others, Rich has also accepted roles coaching elite athletes to improve their strength and conditioning. Always up-to-date on the latest and most effective fitness methods, Rich continues to share his elite expertise during fitness classes at our club and enjoys assisting people of all abilities to improve their physical health and wellbeing.
Karate achievements and qualifications
6th Dan Black Belt, recognised by Kobe Osaka International (

KOI

) and World Karate Federation

Two-time champion of KOI World Cup (Kumite)

Regular past member of the Victorian and Australian Karate Teams

Certified as a Senior Instructor and 'Member of Honour' by KOI

Accredited as a Level 1 Bronze Dojo Coach under the National Coaching Accreditation Scheme, administered by the Australian Sports Commission
Fitness achievements and qualifications
Current Strength and Conditioning Coach (Combat), Hawthorn Football Club

Current Strength and Conditioning Coach, Camberwell Hockey Club, Premier League Mens' and Womens' teams

Accredited under the National Coaching Accreditation Scheme, administered by the Australian Sports Commission
Sensei Tim Simpson 6th Dan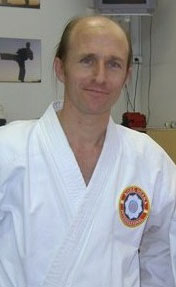 Tim is a senior instructor and part of the fabric of Blackburn Karate Club. His depth of experience and fantastic teaching style have contributed to our reputation of being an exceptional Melbourne karate school.
Tim began his karate training in 1984 and with over 30 years experience has achieved the master level of 6th dan. He has trained in many different karate systems and is very experienced in jujutsu, BJJ and Filipino stick and knife systems. In his early days, Tim competed in many championships and is now a very capable kata and kumite coach. Never one to rest on his achievements, you will find him training in the senior class every week offering his advice and guidance to students.
Started Training: 1984
Teaching Experience : 24 Years
Teaches: Shukokai/Shitoryu Karate, JuJitsu, Self Defence & Stick Fighting (Arnis)
Achievements:
Awarded 6th Dan – 2016 by Shihan Tommy Morris
Assistant Chief Instructor – BSK
Winner of a number of tournaments throughout his career
Level 2 First Aid
Working with Children Card – WCC