There is no such thing as being too old for karate. Focused on developing and coordinating the powers of mind and body, we offer training that is tailored to your age and physical condition. You will train side-by-side with other students at your level, giving you every opportunity to achieve your optimum level of fitness and skill.
Regular exercise and mindful focus is a powerful way to improve your mental and physical health. Many of us drift through life believing that we are operating at our best, when in fact we are far from it. Whether you like the idea of earning your black belt or simply want to learn some self defence and strengthen your body and mind, our world-class instructors will help you get the most out of karate.
Benefits of Karate
learn potentially life-saving self defence skills
improve fitness and energy
increase speed and agility
improve strength and power
boost balance and flexibility
enjoy a sense of accomplishment from challenging yourself to master progressively more difficult challenges of skill and physical fitness
increase confidence and belief in your capabilities
experience better mental focus and discipline in all areas of your life.
Adult Karate Timetable
Monday
Adult Karate

-

Purple, Brown & Black Belt
Tuesday
Adult Karate

-

White to Blue Belt
Wednesday
Adult Karate

-

Purple, Brown & Black Belt
Thursday
Adult Karate

-

White to Blue Belt
Saturday
Adult Karate All Grades

-
Class Structure
Our classes include
how to block, strike and kick
kata (choreographed patterns of movement)
self-defence skills designed to evade and escape a variety of attacks
techniques for increasing your power and speed
sparring in a controlled and safe way, using protective equipment to prevent injury
fitness work and flexibility exercises
challenges designed to encourage positive self-belief and improve mental focus and resilience.
Adult Black Belt
The Adult Black Belt is the culmination of around 4 years training and is an outstanding effort for those who achieve it.  The dedication and discipline required shows real strength of character.  You will always remember the day you became a Black Belt.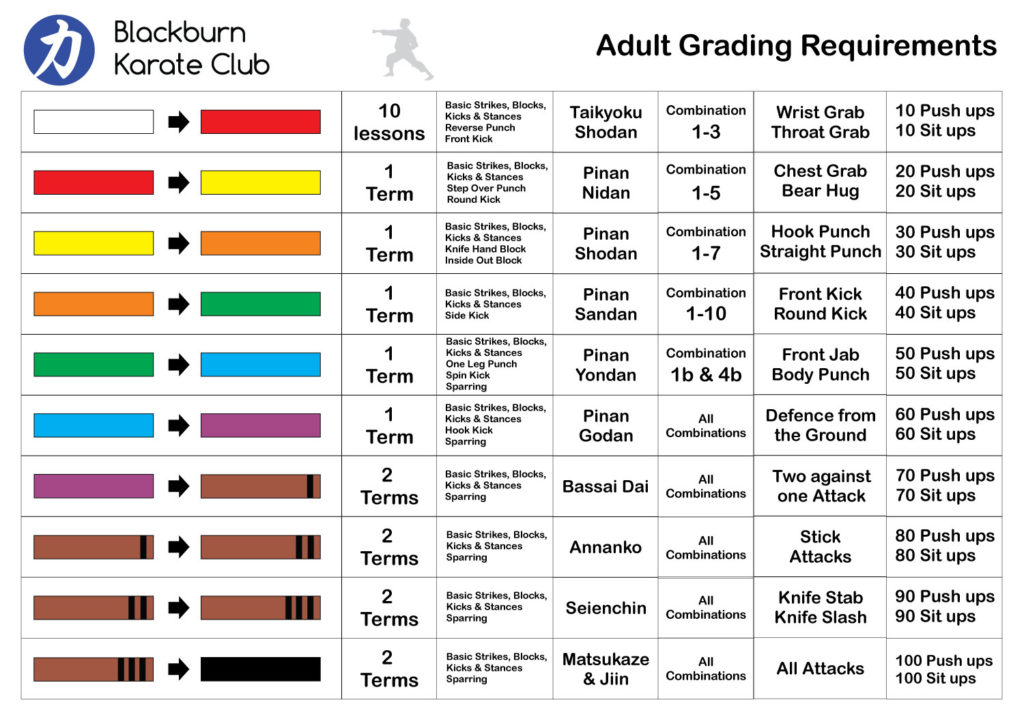 Let's get started!
Your first two classes are free
Not sure whether karate is for you?
Our free introduction is designed to make it easy for you to get started in Karate, with two free trial lessons, at no obligation. See our professional training facilities, meet our instructors and experience karate side-by-side with our students.
We also provide a free uniform and white belt upon enrolment.
Submit our online form, or call Sensei Richard on 9894 4344 to enquire.

Call 9894 4344
Sign up today